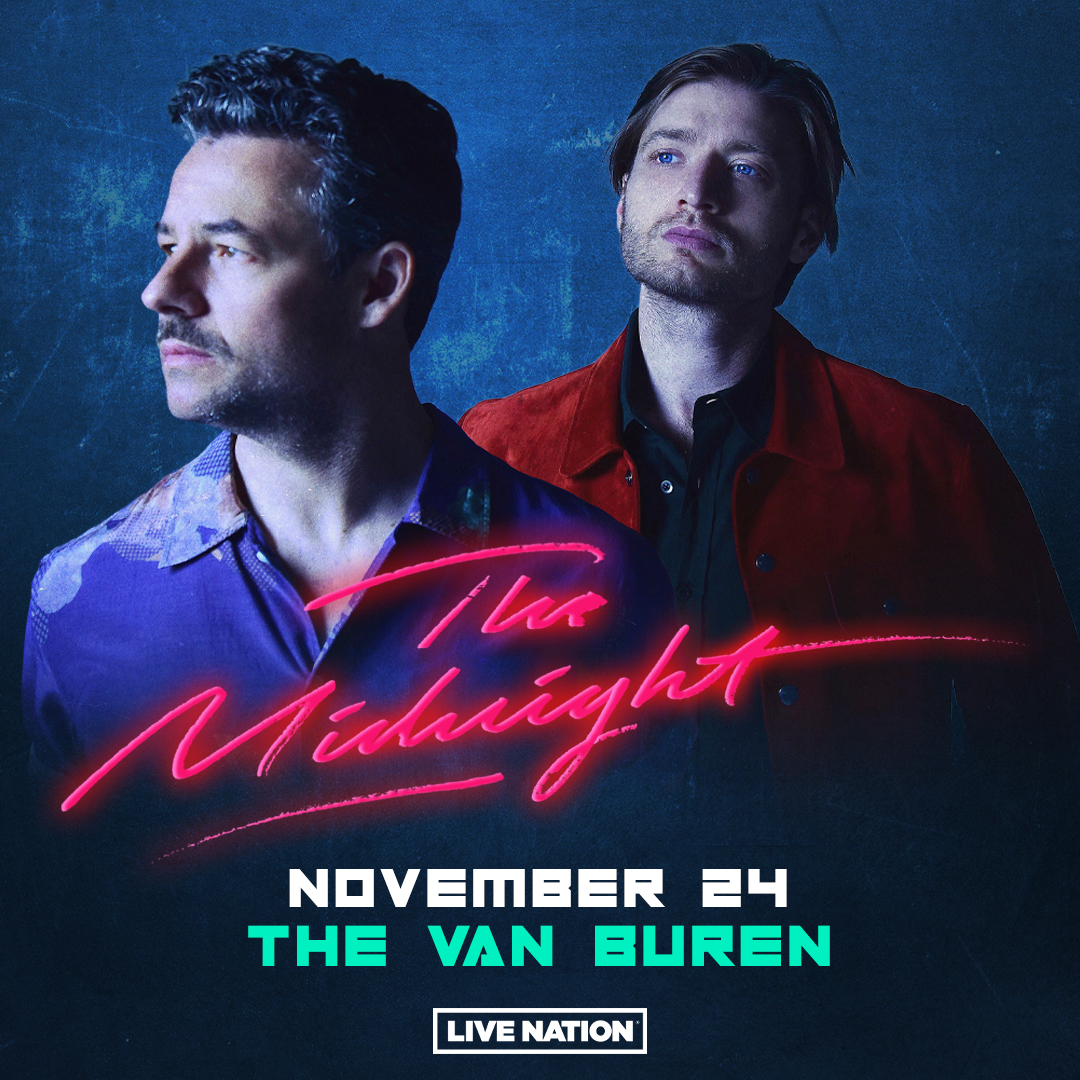 The Midnight
The Midnight
with support from Jupiter Winter
The Van Buren
Doors 7pm, Show 8pm
Tickets: https://www.ticketweb.com/event/the-midnight-jupiter-winter-the-van-buren-tickets/10994465
The Midnight on Tour
A show by Atlanta's The Midnight is a trip back in time. Tim Daniel McEwan and Jamison Tyler Lyle are devotees of the 1980s, as their tricked-out synth-pop and iconography clearly demonstrate, and their live set reflects the depth of their nostalgia, with a light show that bathes the crowd in the bright hues of that decade. The Midnight's passion for the '80s is matched by their fans' devotion to the duo, with shows erupting in sing-alongs and raucous cheering.
The Midnight in Concert
Danish producer and songwriter Tim Daniel McEwan and Atlanta-born songsmith Jamison Tyler Lyle met in a writers' room just outside Los Angeles — an area that was at the forefront of fashion and style during the totally tubular '80s. That locale would prove to be a harbinger for the music they'd go on to make as the duo The Midnight. Their lush, detailed synth-pop is a love letter to the decade of console gaming and mall hangouts. The Midnight released their debut Days of Thunder in 2014, and that album, which showcased their all-in aesthetic, was embraced by synth-pop true believers. 2016's Endless Summer established them as leaders of outrun, an electronica splinter genre that takes inspiration from the 16-bit video games and spit-shined movie scores of that era. Their 2017 album Nocturnal, a bestseller on the independent music-distribution site Bandcamp, added progressive-pop influences — complete with an homage to a selection from Tangerine Dream's Risky Business score — to the duo's already heady mix of big synth chords, swirling sax solos and larger-than-life hooks. 2018's Kids grounds the duo's nostalgia for the years when mall arcades reigned supreme in a dissatisfaction with modern life, and the end result is a powerful one, thanks to The Midnight's sheeny pop serving as a balm for the grief over time's passage. The Midnight's fondness for the past makes for fantastic music in the present.