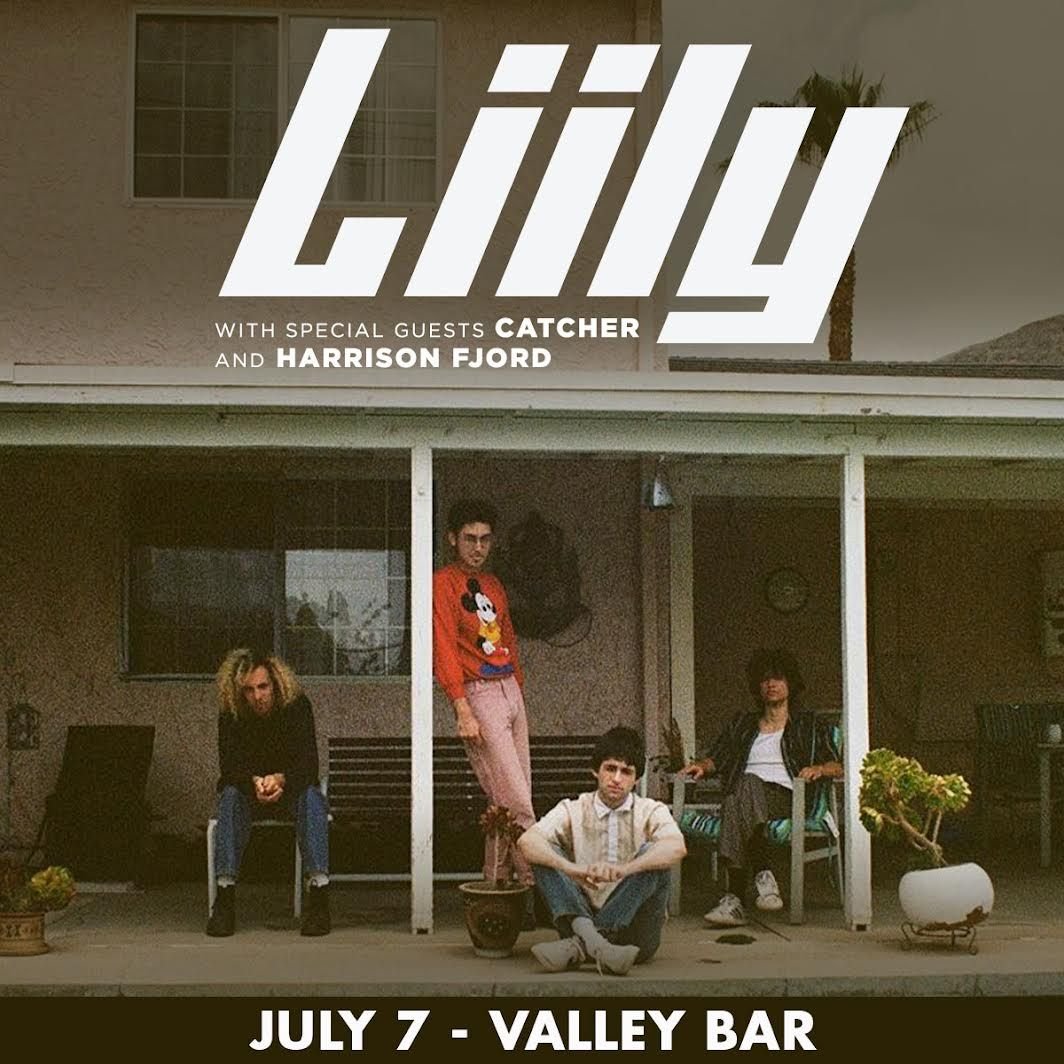 Liily
Liily
with support from Catcher and Harrison Fjord
Valley Bar
Doors 7:30pm, Show 8pm
ABOUT LIILY
Liily are four Los Angeles musicians- Dylan Nash, Sam De La Torre, Charlie Anastasis & Maxx Morando – who, up until now, were mostly known for their manic and cacophonous live shows. Summed up as an "Angeleno quintet…pushing the rock genre forward and into a new era of raw tension and passionate fire…" (Atwood Magazine) the band quickly gained early momentum. Those performances, alongside a couple of early singles packaged together into an 2019 EP entitled I Can Fool Anybody In This Town, drove the young band to some surprising early successes: performing at Lollapalooza and Bonnaroo, touring across Europe and the United States, listed as a VEVO Artist to Watch, and then finding themselves on the cover of Spotify and Apple Music's major rock playlists. But then, as quickly as they appeared, they seemed to vanish. Almost two years later, and now all of 22 years old, the band returns with new music and a new energy. Lead singer, Dylan Nash talks about the 'new era' as "I think thematically it's very different, I think the intensity of it is very different. I think we had the same intention though which is to completely obliterate people's ear drums – that's what it still has in common."
Liily looks to harness their valley upbringing and jump from moment to moment and genre to genre, creating an experimental and original set of songs, all more strange and abrasive but also far more three dimensional than anything the band has done before. It still contains the unbridled energy of those early shows and singles but feels stripped of anything passive or unintentional.
ABOUT CATCHER
Formed in 2021, Brooklyn's Catcher have garnered a growing international fan base with their captivating and visceral live performances. The post-punk 6 piece quickly established a reputation as 'one of NYC's hottest guitar wielding prospects' (NME) as mentioned in The NME 100: Essential Emerging Artists for 2022. Their debut record The Fat Of A Broken Heart is out now.