Flume: Palaces Tour
Flume: Palaces Tour
Presented by Relentless Beats
with special guests TSHA and Sega Bodega
Phoenix Raceway
7602 Jimmie Johnson Dr
Avondale, AZ 85323
7:30pm – 12:30am
About Flume
The alias of electronic musician and producer Harley Edward Streten, Flume makes atmospheric dance music inspired by house and U.K. garage. Recruiting collaborators from across genres, he rose up the main-stage ranks with his 2012 debut and his Grammy-winning 2016 sophomore effort, Skin, both of which topped the album chart in his native Australia. Flume maintained a presence on the Australian singles and U.S. dance charts with hit collaborations with London Grammar ("Let You Know"), Vera Blue ("Rushing Back"), and Toro y Moi ("The Difference") before returning with his third long-player, 2022's Palaces, which included the Aussie Top 20 hit "Say Nothing" featuring May-A.
Born in Australia, Streten began producing his own music in his early teens. Several years later, he won a competition held by Future Classic and subsequently signed with the label to release a 2011 EP featuring the track "Sleepless." The following year, Flume delivered his debut self-titled solo album, which featured guest appearances from Chet Faker, Jezzabell Doran, and Moon Holiday, among others. In his homeland, it topped the ARIA album chart and went double platinum; in the U.S. it was issued on the Mom + Pop label. A deluxe edition of the debut followed in November 2013 with cred-enhancing contributions from Ghostface Killah, Boldy James, M.O.P., and Killer Mike. The same month, he released his and Faker's collaborative Lockjaw EP and toured the U.S. with Disclosure. Several ARIA Awards — including Producer of the Year, Breakthrough Artist, and Best Dance Release — were handed to him the next month.
Streten spent the next couple of years touring and released the single "Some Minds," a collaboration with Miike Snow's Andrew Wyatt, in 2015. His 2016 sophomore set, Skin, featured collaborations with AlunaGeorge, Little Dragon, Vic Mensa, and Beck. The single "Never Be Like You" featuring Kai was a worldwide hit, along with "Say It" featuring Tove Lo. Skin returned him to the top of the album chart in Australia, and this time he not only landed on the U.S. Billboard 200 but reached number eight. Later that year, Flume released the Skin Companion I and Skin Companion II EPs, which included contributions by Isabella Manfredi and Pusha T, respectively. Skin also won several awards, most notably the 2016 ARIA Awards for Album of the Year, Best Dance Release, and Best Independent Release, as well as the 2017 Grammy Award for Best Dance/Electronic Album.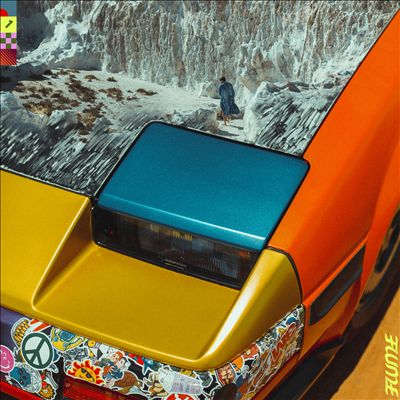 He returned in early 2019 with the mixtape Hi This Is Flume. Featuring appearances by HWLS, slowthai, JPEGMAFIA, and SOPHIE, the atmospheric set earned Flume his third Grammy nomination, for Best Dance/Electronic Album. Meanwhile, he had a Top 40 single in Australia with the London Grammar collaboration "Let You Know" in June of 2019. Quits, a split EP with Reo Cragun, then appeared in August, followed a month later by the single "Rushing Back," which featured Vera Blue. "Rushing Back" reached number eight on Australia's singles chart and returned him to the Billboard dance/electronic Top 20. He enjoyed similar chart placements with the Toro y Moi collaboration "The Difference" in early 2020 and with "Say Nothing" featuring May-A in early 2022. The latter track was the lead single from Flume's third full-length release, May 2022's Palaces, which also included collaborations with the likes of Damon Albarn and Caroline Polachek.
Event Info
CLEAR BAG POLICY:
In an effort to enhance fan safety, and to mirror many arenas and venues around the county, we have implemented a clear bag policy for all large attendee events effective immediately.
We define a clear bag as a fully clear or colored clear plastic, vinyl, or mesh bag. One-gallon clear plastic freezer bags will be considered an acceptable clear bag. The maximum bag size that will be allowed is 15" X 15"x 5". In addition to a clear bag, guests may bring in one small clutch up to 5" X 7"x 2" in size.
Due to clear hydration packs not being readily available, EMPTY hydration packs WILL BE the only exception to the clear bag policy.
Last, but not least! Please note that management reserves the right, without a refund of any portion of the ticket purchase price, to refuse admission to or eject any person whose conduct is deemed by management to be disorderly, who uses vulgar or abusive language, or who fails to comply with these or other rules as set forth by the management. Patrons who are clearly intoxicated or under the influence will not be admitted.
Assumption of the Risk and Waiver of Liability Relating to Coronavirus/COVID-19
The novel coronavirus, COVID-19, has been declared a worldwide pandemic by the World Health Organization. COVID-19 is extremely contagious and is believed to spread mainly from person-to-person contact. By entering these premises and/or the event, you (a) acknowledge the contagious nature of COVID-19 and voluntarily assume the risk that you may be exposed to or infected by COVID-19 and that such exposure or infection may result in personal injury, illness, permanent disability, and death, (b) voluntarily agree to assume all of the foregoing risks and accept sole responsibility for any injury, illness, damage, loss, claim, liability, or expenses, of any kind ("Claims"), that you may experience or incur, and (c) hereby release, covenant not to sue, discharge, and hold harmless the venue, event promoter(s), vendor(s), and each of their respective parents, members, partners, affiliates, divisions, subsidiaries, and landlords and their respective officers, directors, and employees from claims of any kind arising out of or relating thereto.
The following is not allowed into the venue:
NO Illegal substances
NO Drugs or drug paraphernalia
NO Pets
NO Massagers
NO Laser pens or pointers
NO Eyedrops
NO Glass, cans, cups, or coolers
NO Markers, pens, or spray paint
NO Large chains or spiked jewelry
NO Stickers or flyers
NO Tents, large umbrellas, or chairs
NO Large purses or bags (over 15" X 15" X 5" inches)
NO Open cigarettes, lipstick, chapstick, tampons
NO Outside food, beverage, or alcohol
NO Professional cameras (SLR or detachable lenses)
NO Video or audio recording equipment
NO Knives, firearms, pepper spray, fireworks, or weapons of any kind
NO Toy weapons or real weapons of any kind
NO Sticks, staff, swords, sabers, or scepters
NO Open sunscreen
NO Balloons, balls, frisbees, or any other projectile
NO Native American headdresses
NO Festival totems
NO CROWD SURFING OR RAIL BREAKING. PATRONS PARTICIPATING IN EITHER WILL BE EJECTED.
The following is allowed into the venue:
OK Clear (transparent) bags
OK Clear (transparent) backpacks
OK Clear (transparent) fanny packs
OK Empty non-transparent Camelbaks
OK Small clutch up to 5" X 7" X 2" in size
OK Non-Professional Still Cameras including Go Pros
OK Cell Phones
OK Lighters
OK Sealed: cigarette packages, tampons, packs of gum, chapstick/lip gloss
OK Glowing/illuminated costumes or jewelry
OK Sunglasses and hats
OK Sealed liquid sunscreen and cosmetic products
OK Disposable E-cigs, nicotine vaporizer pens, excluding those with refillable chambers containing visible liquid
OK Guide dogs for people with disabilities and other service animals with current rabies certification