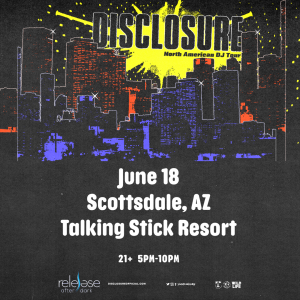 Disclosure (DJ Set) – Release After Dark
Disclosure (DJ Set)
Presented by Relentless Beats & Release After Dark
Talking Stick Resort Pool, Scottsdale, AZ
Saturday, June 18th @ 5pm
"Look! Where your focus goes, your energy flows. Are you hearing me?"
"The title is everything," Disclosure's Guy Lawrence says of the fraternal duo's exhilarating third album, ENERGY. "The thing that decided which songs made it and which songs didn't was that one word: energy. Every track was written really quickly. That's why we had to write so many songs because those ones don't come up every day. Or every week. Or every month."
This year marks a decade since Disclosure's first single, Offline Dexterity. Guy is still only 29 and Howard just 26 yet they have clocked up 4.5 billion streams, 4.5 million album sales and sold 500k tickets to headline shows (excluding festival appearances). When they started, they were performing in clubs that Howard would otherwise have been too young to enter. Their youth and naivete was key to their originality. Early releases such as Latch and Flow spearheaded a house music revival even though they didn't know most of the house and garage records they were supposedly inspired by.
When interviewers first asked Disclosure about their ambitions, they said they wanted longevity. They wanted to be able to move between clubs and festivals, stand-alone floor-fillers and substantial albums, DJing and performing. A decade later, they've achieved their goal.
"It's such a privileged lane that we've found ourselves in," says Guy. "It's great that we can play to 20,000 people and then go and play a dark, sweaty rave. We just want the most amount of people to have the most amount of enjoyment. We can't wait to do it again and again when the time comes."
About Disclosure
With the 2013 release of their chart-topping debut album Settle, British electronic duo Disclosure became one of the most talked-about new acts of the year. Featuring numerous collaborators including Edward MacFarlane of Friendly Fires, Jamie Woon, Jessie Ware, and London Grammar, the album's pop-oriented garage and house sound was both a critical and commercial success, debuting at No. 1 on the UK Albums Chart.
The record's first three singles – "Latch (feat. Sam Smith)", "White Noise (feat. AlunaGeorge)", and "You & Me (feat. Eliza Doolittle)" – were among the year's most ubiquitous club hits, all placing within the UK Top 20 and garnering the album a prestigious Mercury Prize nomination. Brothers Guy and Howard Lawrence grew up in Reigate, Surrey, England, making their debut as Disclosure in 2010 with the funky dubstep tracks "Offline Dexterity" and "Street Light Chronicle."
After following up with the Carnival EP in 2011, the brothers became increasingly sought out for remix work on the strength of their considerable production skills. In 2012, they picked up their first significant U.K. radio attention with the release of the "Tenderly"/"Flow" single and The Face EP, which featured their hugely popular remix of Jessie Ware's "Running." In 2013, Disclosure continued to build on their already-stellar reputation with a string of impressive live concerts, wowing ticket holders at the Glastonbury Festival in England before embarking on a critically-acclaimed world tour.