After spending the last month on the road, rappers Logic, Juicy J, C Dot Castro, and a rotating cast of friends brought their College Park Tour, named after Logic's newest album, to a close at Phoenix's Arizona Financial Theatre. And with so many acts on the bill, fans showed up for a good time and a long time. 
The first set we caught was C Dot Castro, whose charismatic energy was infectious from the moment he stepped onstage. A longtime Logic collaborator, C Dot is familiar with the fans and was right at home on the set, made to look like a midcentury living room. He didn't stand still for a moment, bouncing back and forth across the stage and tossing merch into the sizable crowd.
Juicy J then brought a vibe shift, emerging in a straitjacket and hockey mask to perform his own hits and the best of Three Six Mafia's catalog. "Y'all fuck with this?" he asked about his outfit. He was met with delayed cheers, a direct result of the muffled question (and likely related to the pungent clouds wafting through the room.) But fans didn't need enunciation to appreciate "Bounce It," "Bandz a Make Her Dance," and the other tracks on the setlist.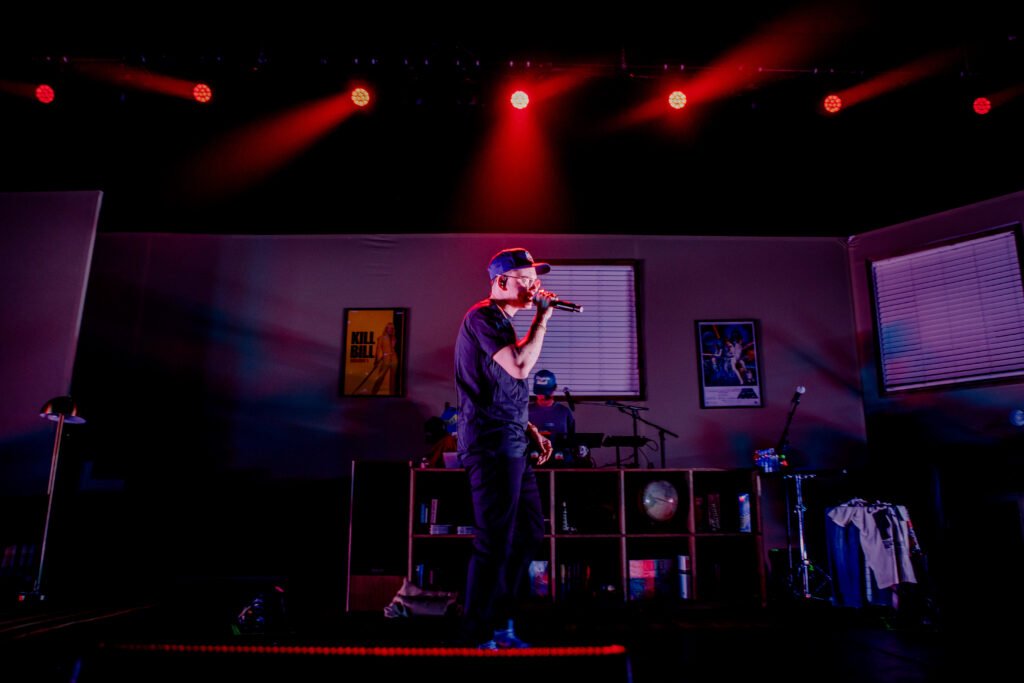 Still, there was a clear focus on the headliner, and nearly every seat in the venue was full by the time the lights dimmed. What followed was part performance, part trip down memory lane, and part kickback with the posse hanging out on the couches on stage. Logic started with "Wake Up" and "Lightsabers" from College Park and then switched to telling stories about his friends on the tour, to then playing multiple songs from an earlier album and repeating the cycle. With a 35-song setlist, there was a lot to take in, but the crowd hung on every word. 
In many ways, it was the quintessential last night of tour: setlist deviations, live collaborations, and a sense of accomplishment from the artists themselves for another successful run. Everyone was relaxed, grateful, and ready to get home — everyone except, perhaps, the fans, who would have happily partied all night.
Story and photos by Taylor Knauf