After five years, four albums and a global pandemic, Taylor Swift took the stage in front of nearly 70,000 screaming fans to simply say, "Welcome to the Eras Tour!" The multitalented superstar kicked off her first tour in half a decade at Arizona's State Farm Stadium with a career-spanning 44-song set that ran more like a marathon than a sprint.
Swift chose a touring lineup of all female acts starting with newcomer Gayle. Between gritty, honest songs, the 18-year-old was visibly emotional as she held back tears when expressing her gratitude to be sharing the stage with Swift. She kicked things off with her latest single "Everybody Hates Me", made a bold cover choice with Alanis Morissette's "You Oughta Know" and of course closed her brief time onstage with "abcdefu".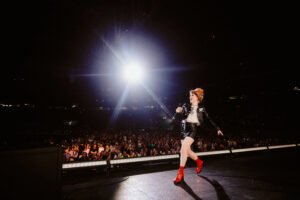 The best thing about seeing Paramore open for Swift is that- even though it was an opening set- Glendale was definitely at a Paramore show. After 20 years in the scene and a brand new album out, the Nashville natives always perform like they're at the peak of their career- and that couldn't be more true. Hayley Williams commanded the massive stage, strutting the catwalk and dancing with wild abandon to some of the band's biggest hits. 
Any new listeners looking for the perfect introduction to Paramore found it in this setlist- from "Still Into You" to the Twilight cult hit "Decode" (the band is Team Jacob by the way), the massive arena sang every word and nearly drowned Williams out in the process. Williams also shared her first encounter with Swift in Nashville over a decade ago before dedicating "The Only Exception" to her and their long lasting friendship. We headbanged through "Misery Business" and "Ain't It Fun" before Paramore took their final bows and ramped up the excitement for the night's most anticipated moment.
Like so many large-scale tours in the last few years since concerts returned in force, fans at the Eras Tour turned this show into their Met Gala, crafting elaborate costumes, handmade outfits inspired by lyrics or albums and even recreated any number of Swift's past fashion choices. All
of this preparation came to an overwhelming crescendo when the stage's LED screen opened and a host of dancers emerged in massive flowing contraptions before Swift herself appeared centerstage. Dressed in head to toe sparkles (a recurring theme of the evening), she played "Cruel Summer" live for the first time and began the journey that would continue for the next three hours. 
The level of production on this tour alone makes it one of the wildest shows we've ever attended and Swift's creative direction brought every era of her career to life in technicolor. Through 10 costume changes, massive video visuals and a dynamic middle stage that changed shape and configuration from song to song, Swift paid homage to the early years and her most recent pandemic work. 
The real "Love Story" of this performance was the one between Swift and her Swifties. Known for lurking online in her fans' TikTok videos and Twitter threads, she dropped little references to fanmade dances (eliciting screams during "Bejeweled") and playfully calling out the discourse on her Evermore album. The Folklore cabin came to life with a fully built set as Swift sang dreamy numbers from her latest bodies of work before taking us back to 1989 and the fun-loving pop hits from that album. 
With too many jaw-dropping moments to recount, highlights from the night included the exclusive acoustic performance of "Tim McGraw", Swifts literal stage dive, unexpected pyrotechnics that had us all sweating and, of course, the "Enchanted" ballgown.
Swift is one of the most prolific live performers of our time and Glendale's 70,000 fans would agree- the relationship between artist and audience felt familiar and comforting, like Swift was an old friend coming back for a long-awaited visit to chat and catch up on the last five years.
She'll be filling stadiums for the next several weeks and bringing the spectacle to thousands more lucky attendees- we were thrilled to be in the audience for the kickoff and hope that it's not another half decade before we get to witness these iconic performances again.
Story by Olivia Khiel
Photo credit: Getty Images and Zachary Gray