The world remains in lockdown, but musicians everywhere are finding new ways to connect with fans. From special live streamed concerts and festivals to tracks created entirely in quarantine, check out our favorite new releases and upcoming events!
The Revivalists: "Wish I Knew You (Made in Muscle Shoals)"
The Revivalists have released their latest music video in support of a special live EP. Fans of the band embarked on a web-wide scavenger hunt, unlocking the video at the end of the journey. The group has also released a documentary, taking viewers through the making of this latest studio session EP. Watch the video now!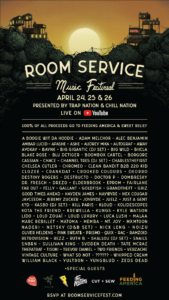 Room Service Music Festival Announced for April 24-26
Trap Nation and Chill Nation have come together to create a virtual festival streaming live on YouTube the last weekend of April. All proceeds will benefit the Sweet Relief Musicians Fund and Feeding America. Performers include Yungblud, Jeremy Zucker, Mt. Joy, Loud Luxury, Rezz and plenty more. You can RSVP for free or include a donation at roomservicefest.com
Static Cycle: "Wolf (Live)"
The brainchild of Alaska native Jared Navarre, Static Cycle are quickly making a name for themselves with a theatrical new sound. Recently, the band released a live video for "Wolf", their latest single. This video release highlights a new emotional depth to "Wolf"  and showcases a more raw take from the group. Static Cycle hope to be on the road again before the end of the year and will be releasing new tracks throughout the summer. Check out their new video above!
Know Hope Records Announces LockdownPalooza for April 18
The Philadelphia record label is hosting its first-ever live streamed event with eight artists on its roster. With acoustic sets and artist Q&A sessions, the artists are hoping to connect with fans even if it's virtually. Label owner and co-founder Shawn Dorsey says, "We hope that this event will help to fill the void that has been left by the inability to experience live music right now."

320 Festival Moves Online- Hosted by Kevin Lyman and Talinda Bennington
After the success of the first 320 Conversations event, Lyman and Bennington's partnership created the 320 Festival. Unfortunately, due to concerns surrounding COVID-19, this free event has now moved online from May 8-10. Anyone is able to stream the educational panels, along with musical guest performances all weekend long. Find more info on the 320 Festival here.
Pandora Releases New Roundup of Artist-Curated Playlists
As part of their "Listen In" series, Pandora has collected artist-curated playlists from a new group of artists this week. Best Coast, PVRIS, Third Eye Blind, and Young the Giant are among this latest wave. You can Listen In here.
Vinyl Nation to Premiere Documentary in Partnership with Indie Record Stores
The documentary about the resurgence of vinyl records, the diversification of vinyl fans, and what this all means for America was ready for its premiere this spring, but plans have changed to an online viewing party. Independent record stores nationwide are participating, so you can reserve your ticket and watch the film during the original Record Store Day weekend.
Troubled Minds: "Burn"
Arizona indie rockers Troubled Minds are bringing the heat back to the desert with "Burn". The track gives echoing verses and pounding choruses for one of the band's strongest releases to date. "Burn" comes on the heels of "Vacancy", another stellar song in the young band's catalog. Post-lockdown, Troubled Minds will be gracing the stage at Mesa's Club Red with The Red Jumpsuit Apparatus.
Releases We're Digging
CAPPA: "Change My Mind" ft. Yuppycult

Sunshine State:

The Mess

 

Quinn L'Esperance: "Human Connection"

Salt Cathedral: "How Beautiful (she is)" ft. duendita, MC Bin Laden

neumodel:

ROCK

Marlin's Dreaming: "Alike"
Images courtesy of the artists/events